Most people think a moving company should handle everything right from packing their belongings to loading and unpacking on arriving at the destination. But that is not always the case!
A professional mover can make the overall journey hassle-free by taking the stress off your shoulders, provided you know what to expect from them.
Whether you are moving between neighborhoods or states, movers can do much more than you think, so you never feel uneasy about the big day. Let's dig into what you should expect when hiring a moving service.
Note: Every national moving company is unique, and thus, their services might differ. Make sure to communicate clearly with the movers about the process before signing the contract.
Contact Dose Moving & Storage to discuss your service-related needs, and move locally wherever you want.
Things You Need to Know Before Hiring Professional Movers
Moving a home or business is complicated and requires thorough planning. Most professional moving companies need a 4 to 6-week time window to plan things perfectly to ensure the safety of your belongings.
To ease the overall process, you must devise a plan beforehand the big day arrives. Preparing a checklist is a fantastic way to start, as you can sort things you want to move and donate- making it easier for the movers.
In addition, if you have kids and pets, look for a safe place for them until the moving process completes. These small things will keep you on track for the weeks leading up to your move.
Also read: Residential Moving Day Etiquette: What Movers Want You to Know
Everything You Can Expect a Commercial Moving Company
You have prepared a checklist and have made a moving plan. Now what? Relocating your home or office is more than just transporting your possessions and often involves paperwork.
Below we have explained what you can expect from the movers depending on each stage of the moving process.
Before Moving
The "before" phase involves most of the hard work, impacting your move's success. Since it is often the most hectic, preparing for it is the best way to cope with unprecedented things.
Arriving on Time
The first thing you can expect from good movers is arrival at the pre-agreed date and time. The crew may get slightly late due to unforeseen and unavoidable circumstances like traffic jams or other issues.
They arrive in a moving truck with the branding of the relocation company and the USDOT number marked on it. Another thing to expect is a clear and thorough explanation of the entire process.
The supervisor will introduce himself and explain how they will help you move. Plus, a gist of the main and backup plans.
Pre-move Consultation
The pre-move consultation is one of the most important steps involving the initial walk-through. During the process, a representative from the moving company will visit your location to assess the scope of the move.
They evaluate your belongings, take measurements, and create an inventory list. This detailed list helps to ensure everything arrives safely at your new house or office in the condition it left your old property.
Since the movers can customize their plans, you can tell them about your unique preferences and requirements. Go through the inventory list to ensure no items are missing, as the representative will require your signature on the assessment.
After the consultation, the moving company will provide you with an accurate cost estimate of the move, including transportation costs, packing materials, and other additional commercial moving services (if you have opted for any).
Customizing Moving Services to Your Needs
Every move is unique, thus, it is important to choose the services that help ease the process. For example- some national moving companies offer packing and unpacking services, eliminating the hassle of finding packing supplies and spending days organizing your belongings in boxes.
If you need customizable moving services, you must inform the moving company to help them plan accordingly.
At Dose Moving & Storage, we tailor residential and corporate relocation services to our client's specific requirements, as we know they expect and deserve the best moving experience. Contact us today for more details, and plan your move successfully.
Seamless Communication (Throughout the Move)
A good moving company understands the importance of proper communication, and you can expect them to emphasize it. The movers will promptly answer your queries via phone, email, or chat.
You can expect quick and helpful responses to any questions or concerns you may have. The communication includes everything, such as updates and reminders.
A reliable relocation company provides accurate information about your move's progress, including pickup and delivery dates, estimated arrival times, and any potential delays.
Determining Best Practices
Expect professional movers to determine how they will move your possessions. It could be anything- such as which room to start the process from and how to fit your belongings into the truck. The key practices followed during this stage include:
Planning and Organization: The movers will work with you to help you understand how they will handle the important tasks, the timelines, and the responsibilities to ensure everything is well-coordinated.
Packing Techniques: The experts will determine proper packing techniques depending on the fragility and value of your items. You can also expect them to use high-quality materials while labeling each box properly.
Efficient Loading and Unloading: After determining the packing strategy, the pros will focus on loading and unloading. This step also helps them choose the right fleet of trucks for seamless moving.
Post-move Evaluation: Lastly, you can expect the moving company to offer post-move evaluation (meaning giving you a walk-through of the items after unloading). Even if you forget about it, the movers do not fail to finish the move on a good note. 
Protecting Your Home
Professional movers always take precautionary measures to protect your home from damages, accidents, and injuries during loading and unloading. They will use plywood sheets, carpet protectors, and moving blankets to protect the stairways, floors, handrails, and other areas from dents and scratches.
Movers are well-versed in creating a flat and non-slip surface to eliminate the risk of falling and tripping while hauling heavy items around your house.
Expect these guys to come prepared with all the necessary tools and supplies- furniture pads, moving dollies, floor runners, carrying straps, and more to prevent any damage to your property while ensuring their safety.
Preparing Your Belongings for Shipment
After getting the moving inventory ready and protecting your home using the best measures, the movers prepare your items for shipment. You can expect them to:
Disassemble Furniture
Some furniture pieces that do not fit through the hallways and doors of your house, and have fragile parts, might require dismantling. If you have agreed to your mover dismantling the furniture before shipping it, the crew will handle this task.
These professionals have appropriate disassembling tools and the experience required to dismantle the furniture safely, protecting it from damage.
Pack Everything
If you have opted for full-service moves (or have requested packing services), expect the relocation team to pack your items. The moving company will execute the best practices they have already determined to streamline and complete the moving process within the stipulated time.
Wondering what to expect when a mover packs for you? The professionals begin with arranging supplies- bubble wrap, packing paper, boxes, tape, and more to pack everything carefully for the long-distance moves. The proven techniques help the movers ensure maximum item protection while optimizing space.
An Important Note
It is not viable for movers to mark individual items in the carton. Only the room of the house the box comes from is mentioned on the box. 
Loading the Moving Vehicle
After packing and protecting the items, the movers load them onto the truck- safely and carefully. The crew knows how to secure and position the boxes in the vehicle to mitigate the risk of damage during transit.
Because professional movers in Prince William County excel at maximizing space and efficiency, and you can expect them to:
Pack the trucks tightly from floor to roof to save space and reduce potential damage.
Tie-down heavier items, such as large boxes, with the help of special straps, mats, and locks for optimal safety.
Organize boxes and other items in a way so that they do not move from their position during transportation and unloading.
Departing for the Destination
After the loading process completes, expect the crew leader to accompany you for a final walkthrough of your house to ensure everything has been loaded properly. They may also present you with a bill that lays out the conditions of the move and elaborates on the performed services, their rates, and the insurance plan you have chosen.
You will also find details such as the date and time of delivery, the final cost, and the payment method. Read the "Bill of Lading" carefully, as it serves as an agreement between you and the relocation company. Once you sign the document, the movers depart for the final location.
Upon Delivery
No matter if you are relocating within the city or across the states, reliable movers in Maricopa County will ensure the safe transportation of your goods. Their services do not end until they arrive at the final location and properly unload/unpack the items.
Unload the Trucks
Upon arriving at the destination, movers prepare to unload the vehicles. If it requires set-up ramps to put the belongings inside your new home/office carefully, expect the movers to arrange supplies to do everything safely. When unloading the items, the moving company must mark off any hidden steps or broken sidewalks.
Storage Solutions (Exclusive Service)
Storage might be the last thing to expect from a relocation company, but Dose Moving offers storage services. If there are some items you do not want to unload and need a temporary place to store them, you can book one of our storage units at extremely affordable rates.
Our climate-controlled vaults are each 5x6x7 in size, and you get ample space to store your belongings safely. Along with spacious and clean vaults, we provide our customers with storage blankets at no extra cost.
Need a storage unit? Contact us to book one, and nominal rates. We guarantee the same price increase, even for weekends. 
Unpacking the Items
If you had a full-service packing move, you could expect the movers to help unpack the items after unloading. The best thing about professional unpacking service is that you do not have to worry about damage. Upon request, the moving staff can also dispose of packing materials ending your final struggle.
Reassemble Furniture
If the relocation experts have disassembled the furniture, expect them to reassemble it. By making up the furniture items such as desks, beds, and sofas, the movers make them available for your immediate use. Putting together the furniture might take some time, so coordinate with the supervisor for updates.
Clean Up
Residential and commercial movers, not only help you shift your belongings, but you can also expect them to clean up the items they have used during the moving process.
For example- the crew might use plywood sheets and straps to load and unload the items. After completing the moving process, these pros gather and remove everything, such as empty boxes, dollies, and more, to leave no trace of ever being on your property.
Do Professional Moving Companies Really Make a Difference?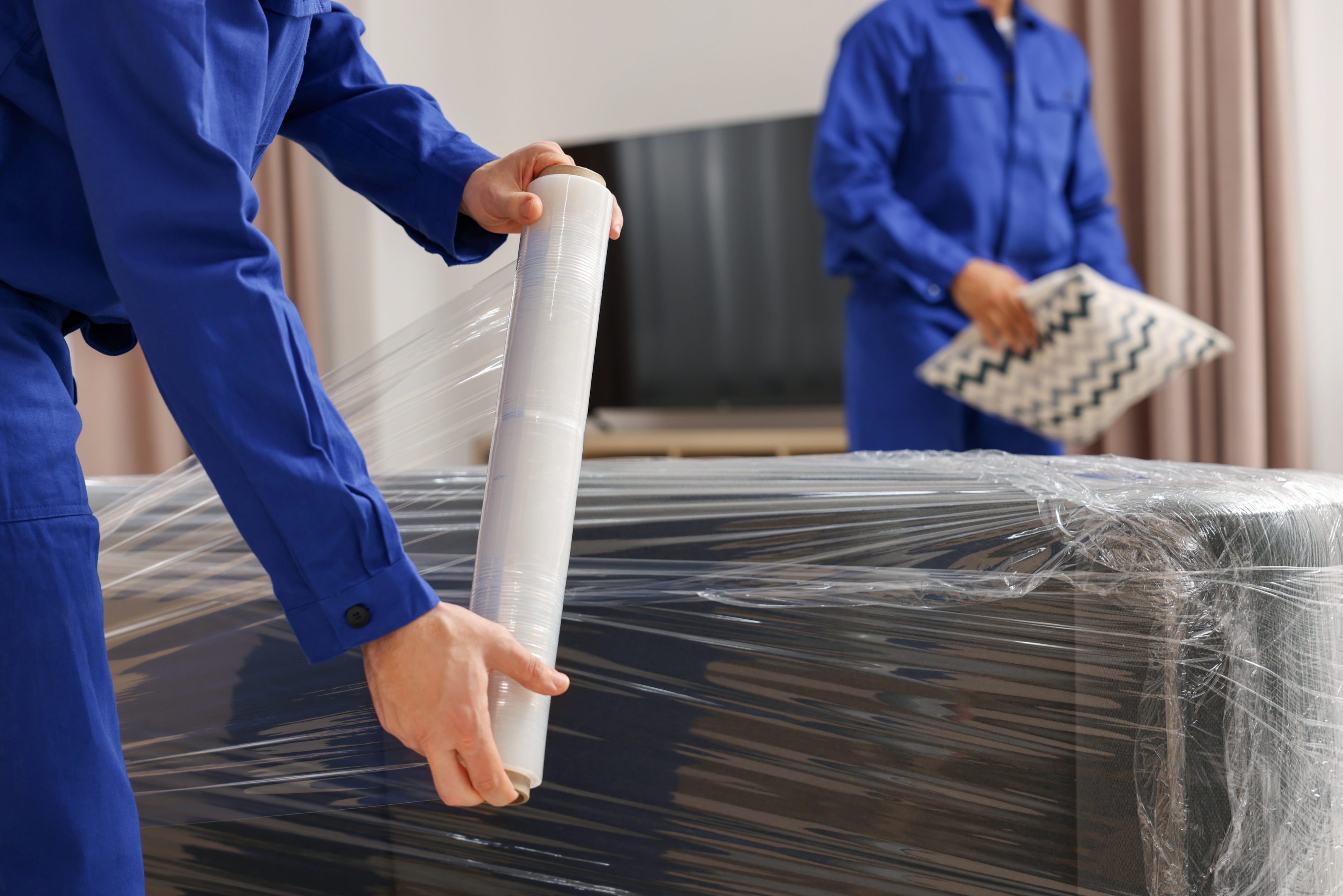 Moving a house or office is no walk in the park, so Frederick County residents choose experts when planning a relocation. Here are some differences you will experience if you work with a moving company.
They Expedite the Overall Process
Whether it is your first move or you know the ins and outs of relocation, it will still take time to draft a plan and execute things accordingly. As a result, moving your house might take longer than planned (in some cases, it can even take months).
On the other hand, movers from a reputable moving company do it regularly and are well-versed in the complexities of moving. From packing your items to loading them and choosing the best route, relocation experts can help you move without draining your wallet and losing productivity.
They have the Equipment and Crew
Full-service moving companies have all the equipment and crew needed to complete the job. Irrespective of the size of your home or business, these moving industry professionals can manage anything- whether it is arranging additional dollies, pallet jacks, or other items.
Moving on your own requires you to arrange such items and some workforce to help, which could drain your wallet.
They Operate on Weekends
Everyone wants to move on their free day, which can be complicated if you are not moving with a relocation company. However, with a professional mover, you do not have to worry about the schedule.
If you have planned to move on a weekend, rest assured that the company will help you move on the specified moving date. Moving as per the plan can save you a significant amount of money.
They are More Affordable than You Think
A common misconception that has surfaced recently is that interstate moving services are expensive. But it is the opposite! Hiring an affordable moving company to move you from point A to B can result in considerable savings.
There is a huge probability that you do not own trucks or moving supplies and do not have a trained team to load/unload the freight carriers. Most importantly, you are not insured to conduct state or local moves.
When you work with a mover, you don't need to spend money on anything apart from paying the agreed amount or moving fee. In addition, you get DOT mandate insurance for your belongings for extra safety.
They Alleviate Your Stress
Knowing that your home or business is packed up safely and transported by licensed professionals is a load off your mind and back. Local movers love their job and know how to take the stress away throughout the process.
For added relief, make sure to assign every task to the relocation company- such as packing/unpacking. If you have some extra belongings, you are worried about. You can hire a storage vault from your moving company (if they offer additional services such as storage and vehicle shipping ).
Also read: Should I Hire A Full-Service Moving Company In Phoenix?
Ready to Move? Contact Dose Moving & Storage
Moving can be emotionally and physically overwhelming, but it becomes highly rewarding when planned properly. At Dose Moving & Storage, we ensure a smooth transition whether you are moving your household or a business.
Being one of the best moving companies in the area, we are aware of the moving regulations, and our hard-working team leaves no stone unturned to guarantee your satisfaction.
Since we are a full-service moving company, you can count on us for everything- from packing your belongings to unpacking them safely upon reaching the destination.
Got some extra items you do not want to shift yet, but do not want to sell either? Our spacious and secure storage vaults offer you climate-controlled environments to store your possessions for as long as you want.
Call us today at  602-806-9335 (AZ) or 571-207-7973 (VA) or fill out this customer form for a no-obligation quote.