Moving is not commonplace for many, and mistakes happen because "to err is human"!
While some moving mistakes are insignificant and easy to fix, some can drain your wallet.
According to a post by Forbes, most people fall prey to moving scams and lose thousands of dollars in the pursuit of shifting to a new home or office. Furthermore, on average, the BBB (Better Business Bureau) receives around 13,000 monthly complaints about movers.
Does that mean things will undoubtedly go south when you move? Not at all!
If you know the dos and don'ts of moving, you can easily fend off the costly mistakes, making the entire transition smoother and easier.
This article explores the common mistakes people make when moving. We will also discuss how professional movers can help you avoid those pitfalls.
Also read: Residential Moving Day Etiquette: What Movers Want You to Know)
The Dos and Don'ts of Moving: Explained in Detail
There are not one or two but multiple things to take care of, so be prepared when moving your household or business to a new location. Grab a notepad, and write these dos and don'ts down not to miss anything throughout the relocation process.
The Dos
Do Prep Ahead
Start preparing for your move at least a few weeks in advance. If possible, create a detailed timeline that outlines all the tasks you must accomplish before the moving date arrives. It can include things such as gathering packing supplies, booking a moving company, notifying utilities, changing your address, and scheduling a full-service mover.
Whether local or interstate, shifting can be a time-consuming process, so it's important to plan things earlier to avoid unnecessary stress.
Do Get Rid of Everything Unwanted
Moving your home or business presents an excellent opportunity to declutter your belongings without hiring cleaning services. Take time to go through each room in your house or office to sort through your possessions.
Professional movers at Dose Moving recommend separating items into categories like "keep," "donate," and "dispose of." Or you can organize a yard sale or sell the items online or some extra cash.
Decluttering is one of the most important things to do before moving. Not only it saves you from a mess, but you can also save money by not shipping items you do not need or want anymore.
Do Create a Moving Checklist
Make a detailed inventory of your belongings before packing them. Go room by room and list each item along with its description, condition, and estimated value. You can create your inventory using a spreadsheet or a dedicated moving app.
Taking photos or videos of valuable or fragile items can also serve as evidence in case of any damage or loss during the process.
Most people only pay attention to the inventory before loading, but you should update it throughout the process. For example, if the movers have started loading your belongings onto the trucks, update your inventory list accordingly.
It will help you keep track of where everything is located during loading and unloading making the process more efficient.
Do Make a Moving Folder
A physical or digital moving folder will help keep all essential documents related to your move in one place. You can easily carry the moving contract, rental agreements, expense receipts, contact information for utilities and service providers, and a copy of your inventory list.
Having all these documents easily accessible will help you stay organized and prepared to resolve any issues that may arise during the move.
A Pro Tip: 
Create multiple copies of these documents, so if, in any case, you lose the folder, you still have a backup. Or, if possible, prefer to store all the documents online on platforms like Dropbox to have immediate access.
Do Plan Things for Your Children, Pets, and the Elderly
Moving with kids, pets, and senior citizens can get daunting, and you know why. Depending on the nature of your move, it may be best to find a safe place for your children away from the chaos and stress of the process.
Options include boarding facilities, babysitters, or leaving your kids and pets with friends or family to provide a calm and secure environment.
If you are moving with self-service moving companies and have no choice but to take your children and parents with you, it is crucial to put together a travel kit. Get all essential items such as food, water, medications, toys, bedding, leashes, and identification tags to make the journey smoother for everyone onboard.
Do Label Boxes Clearly
Packing is one of the most important tasks of the moving process, as it will decide how easily you can organize at the new place. If you have opted for packing services for your office, corporate moving services will help you pack properly and label your boxes according to the room.
However, if you are packing yourself, use a system to label your moving boxes clearly. Assign each box a number or label corresponding to a room in your new home. For example, when packing your cabin supplies, mention "cabin" on the box to prevent the interstate movers from getting confused between hundreds of boxes.
Additionally, write a brief description of the contents on the label if you are packing contents of different rooms. Tape the labels securely, and click photos of all boxes to manage the inventory.
Do Inspect The Moving Truck After Your Items Are Unloaded
Once the moving team has unloaded the boxes from the truck, take time to inspect them for any damage. Check the walls, floor, and ceiling of the truck to look for signs of leakage, dents, or scratches. Take photos or videos of any issues and report them to the moving company at the earliest opportunity.
This will help ensure you are not responsible for any pre-existing damage to the truck. Moreover, you can ask the relocation company to compensate you for the damages you have suffered due to problems with their moving trucks.
Do Plan for Unpacking and Getting Organized
After you have arrived at the destination and everything looks good, you are all set to unpack. But opening the boxes randomly won't help and may create a mess for you and the movers.
Instead, create a plan to prioritize essential items and establish a sense of order in your new home. Unpack room by room, starting with the most important areas, such as the kitchen, bedrooms, and bathrooms.
Set up essential furniture and appliances first and gradually move on to less crucial items. When you have a plan, you can stay focused on making the entire moving process more manageable.
The Don'ts
Do Not Hire a Moving Company You Haven't Met With
When you call commercial movers for a service quote, they visit you to see the scope of moving. Do not trust a company if they stress giving over-the-call estimates and ask you for an advance without visiting your premises.
Meeting with the commercial movers gives you the ability to assess their professionalism, ask questions about their services, and discuss any specific requirements or concerns you may have.
It also gives you the opportunity to gauge their communication skills and level of expertise, as you will solely depend on them throughout the transition.
Do Not Waste Time Scournging for Boxes and Packing Supplies
Instead of scrambling to find moving containers and packing supplies at the last minute, start collecting them well in advance. Check with local grocery stores, bookstores, or liquor stores for free or discounted boxes. You can also purchase packing supplies such as bubble wrap, packing paper, tape, and markers to ensure your belongings are properly protected.
If packing seems like a task you cannot handle alone, do not proceed in the first place. There are some professional packing services that can pack your belongings safely and securely. When you hire full-service movers with packing and unpacking services, you do not need to gather supplies, which saves you money.
An Added Benefit: 
Packed-by-owner boxes are usually not covered under moving insurance, so leaving it to the pros is better. Add-on services such as packing can make the overall moving package more affordable, so tell your mover in advance. Some relocation experts also offer storage solutions, and telling them priorly about your needs can help you secure a good deal.
Do Not Hire Moving Companies Solely Based on Price
Moving scams are not new. You will be surprised to know that 4 out of 10 people get scammed by unreliable companies when moving home or business.
While it's important to consider your budget, do not make the mistake of choosing an interstate moving company solely based on the price. Research the reputation and reliability of the best interstate moving companies by checking if they have positive customer reviews. Also, you should ask for recommendations and check the mover's accreditation or membership in professional organizations like American Movers Association.
Dose Moving & Storage is a leading national moving company that is licensed and insured to help you move anywhere in and around Arizona or Virginia. We offer you a balance between quality service and affordability for a smooth moving experience. Contact us today and plan a successful and stress-free move and to know more about our additional services.
Do Not Water Your Plants for Two Days Before You Move
Caring for your plants is important, but watering them before the move can make things daunting. Overly moist plants can leak water during transit and damage other items in the moving truck.
To avoid this, refrain from watering your plants for a few days before the move, as it allows the soil to dry out and reduces the risk of water leakage. The water seeping out from pots may damage the boxes, and even the best moving companies might refuse to load them onto the truck, especially for long-distance moving services.
Do Not Move Your Large and Heavy Furniture Yourself
Moving large, heavy furniture can be physically demanding and potentially risky, regardless of local and interstate moves. Also, these items require dismantling to protect easily damageable parts and to utilize the space efficiently.
Avoid attempting to move them on your own, as you risk injury to yourself or damage to the furniture. Talk to a relocation services company for hiring professional movers, and know their plan for moving the furniture.
Do not hesitate, and tell the full-service moving company about the fragile parts of your furniture and anything important they must know. If you have received a dismantling guide with your sofa, you can present it to the crew for additional help.
Do Not pack Valuable Items into Your Moving Truck
Most long-distance moving service companies are reputable and reliable, still, it's wise not to entrust extremely valuable or sentimental items to them. In fact, professional movers also tell their customers not to pack high-value items such as jewelry or currency into the boxes.
Keep such items with you during the move, so you can personally ensure their safety and have peace of mind. This is one of the most important moving tips you should follow during relocation.
Do Not Put Flammable Items on the Moving Truck
Whether moving in your neighborhood or to the corner of the city, safety should always be your priority. If you have decided not to take professional packing services and pack everything yourself, be extra cautious about the items you toss into the boxes.
One golden rule is never to put flammable items on the moving vehicle. These items could be anything, such as gasoline, propane tanks, lighter fluid, aerosol cans, and certain cleaning products, and can be extremely dangerous if mishandled or exposed to specific conditions.
Flammable items should be moved separately for both interstate and local moves.
Do Not Sign Any Paperwork You Don't Fully Understand
Last but not least, do put your signature on any paperwork without reading it thoroughly or if you do not understand it. Take your time to analyze the documents, such as the contracts or Bill of Lading, and more before accepting them.
If you come across any terms or clauses you don't understand, ask for clarification from the moving company. It is crucial to protect yourself and ensure that you know all the terms and conditions you agree to.
Also read: Residential Moving Day Etiquette: What Movers Want You to Know
How Professional Movers Can Help You Avoid Common Moving Mistakes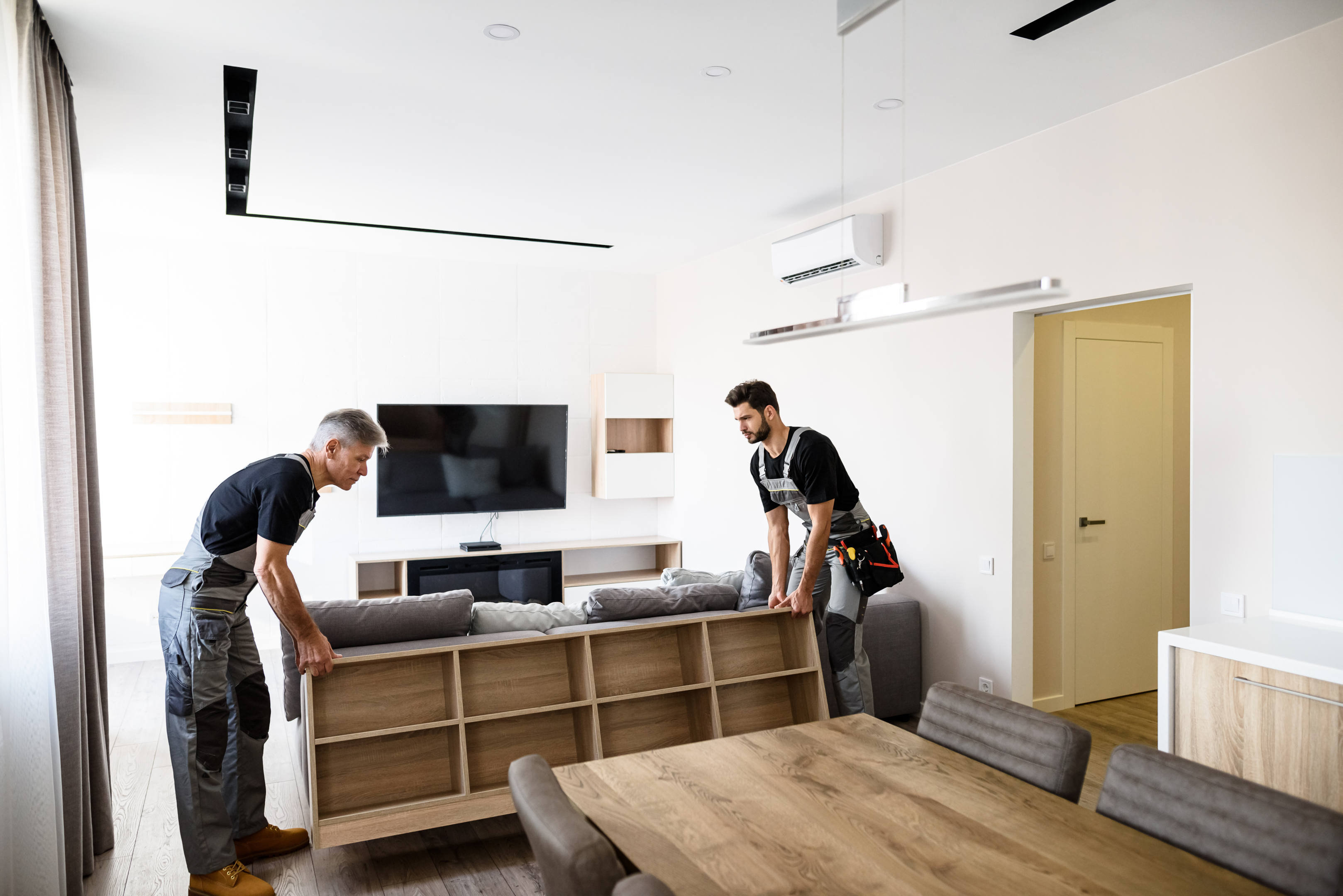 Moving is equally exciting and stressful, whether you are moving for the first time or have moved your home/office. But for the best long-distance movers, it is a task they must complete professionally and successfully.
Also, these experts have extensive experience handling moves of all sizes and complexities and know how to save you from making the most common mistakes.
Proper Planning and Organization
Reputable moving companies can provide expert guidance and assistance in creating a comprehensive moving plan tailored to your needs. From determining the optimal move date to coordinating logistics, they can help you stay organized and ensure all necessary tasks are completed on time.
Efficient Packing and Protection
Your belongings are susceptible to damage if they are not packed properly. Professional movers have the skills and expertise to pack your items to protect them during transit.
The packers use appropriate packing materials and techniques to safeguard fragile or valuable possessions, helping you prevent packing blunders. It also saves you time, and you can have peace of mind knowing that your belongings are in capable hands.
Details About Insurance Coverage and Liability
Not having proper insurance is another mistake you can avoid when working with a reliable mover. These local moving services tell you everything well in advance, so you can decide whether to go with the DOT mandate or take a third-party cover to safeguard your items.
Moving without knowing about the insurance and coverage is a common and expensive mistake most people make.
Information About What to Pack and What Not To
If you have decided to handle the packing department, the professional moving company will carefully brief what to pack and what to avoid. For example- packing perishable items is a "big no," so your movers will tell you clearly about such items.
Some interstate moving companies even list the restricted items in their agreements, making it easier for you to pack and organize the items.
Transparent Pricing So You Know What You Are Charged For
Overcharging is common in the moving industry, and many people pay extra money from what the relocation company told them in the initial moving quote. However, when you work with a professional company, you know exactly what you are paying for.
These movers prepare detailed quotes and contracts depending on customizable moving services that outline every single expense and tax, so there is no scope for overcharging.
Also read: How to Pack for a Successful Commercial Move
Experience Stress-free Moves with Dose Moving & Storage
When you entrust Dose Moving & Storage to relocate your home or business, you can rest assured that it will be a hassle-free experience. We believe it is our responsibility to help our valuable customers as you move effortlessly and timely so your schedule does not suffer.
Besides moving, you can count on us to arrange the packing supplies and organize everything properly in boxes. For items you do not want to move or sell, Dose offers excellent storage services- climate-controlled and super-secure vaults.
Dial  602-806-9335 (Arizona) or 571-207-7973 (Virginia) and start the relocation process with the most recommended and properly licensed local movers.