Moving your business to a new location is not easy; it can quickly become disastrous if you don't know how to properly pack! In fact, packing is one of the most crucial steps of the moving process since it affects the whole moving sequence.
For many people, packing might seem like a straightforward and effortless task. However, packing items like business equipment and office furniture while trying to remain organized and efficient has unique challenges.
In order to make things easier for you, we have curated this guide on packing for a successful commercial move. Follow these tips diligently for successful office relocation.
Start Early
Just like the early bird gets the worm, an early packer gets a less stressful move. Starting early is essential to ensure all of your items are ready to be moved to the new office in a timely manner.
Most business owners have no idea how long packing will take and do not plan for the unexpected issues that are sure to arise. The earlier you start packing, the more prepared you will be for any inconveniences.
When you start early, you get ample time to plan and execute the packing in an organized manner. For example, you can plan the packing non-essential items first and do a majority of it on a non-working day so you don't disrupt workflow.
Maintain Communication With Your Employees
Packing can be stressful if people don't know what to do. Maintain clear communication with your employees so everyone knows what their responsibilities are and what needs to be done. For example, the manager will provide the packing supplies, but the employees will be in charge of packing their own belongings and the office equipment at their desk.
When people know what to do, they do it properly and effectively. Monitor everything and check in to ensure your team remains on task.
Go Through All Physical Paperwork and Create Digital Copies
No matter what industry you are in, there will likely be a lot of paperwork lying around the office. Packing and moving all these documents and files is probably unnecessary. Before you start boxing up any papers, look through them to determine if you actually need them.
Packing and moving should be done in a way to minimize the overall effort, and that can only be done if you reduce the clutter. Create digital copies of the essential documents if possible so you can get rid of excess clutter.
Ask your employees to help sort through everything and have a shredder on hand to destroy documents containing sensitive information.
Take Inventory of All Your Equipment
Moving a business means moving everything, including expensive computer equipment, furniture, and even kitchen appliances. Some items may get left behind when moving such a substantial load.
By taking an inventory of all your office equipment, you can keep track of what you are moving and whether it was packed or not. When you have a check-list, you can also prioritize things, such as your more expensive equipment and technology devices to ensure it all arrives at the new location.
Make multiple copies of the inventory and distribute them among your employees for added oversight.
Gather the Packing Supplies
Once you know what items you want to move, you can arrange for the packing supplies. Order boxes, bubblewrap, blankets, and straps according to the size of the items to be packed. If you want to pack fragile items, you need good-quality packing supplies that offer ample protection.
Most businesses struggle with packing because they don't have enough packing supplies, slowing down the overall moving process.
If you are renting these supplies, be sure to make a list of what you have rented so you can return everything to the vendor and avoid getting charged for misplaced items.
Create a Designated Packing Zone
Having all packing materials scattered all over the office is surely going to waste everyone's time and cause distractions to the workflow. It is best to have a designated space for packing so that everyone can find what they need right away without searching for it.
Pick an empty room in your office or designate an out-of-the-way corner, and ask everyone to pack things there only.
Decide What You Want to Pack First
Not everything in your office can be packed at once, and it's better to have a clear idea of what should be packed first. If your business operations depend entirely on computers, it makes sense to pack them last so that employees can use them up until moving day.
Make a Packing Strategy Depending on the Type of Items
Items like computers, printers, routers, and monitors require more care than furniture. It will be helpful to have a uniform packing strategy for fragile items to minimize the risk of damage in the move.
For example: When packing fragile items, you should place a few layers of newspaper at the bottom of the box and in the empty spaces for maximum protection. Some items may even need to be wrapped in bubble wrap. Additionally, heavier items should be packed at the bottom and lighter items at the top.
Explain the packing strategy to everyone assisting you to minimize the risk of damages. Since you are packing on your own, you won't have insurance if some things get broken in transit due to poor packaging.
Don't have time or patience to do your own packing? Let Dose Moving & Storage help you pack, move, and unpack your business for a stress-free moving experience. We've been doing this for years, so stop worrying about making a packing strategy. Call us at 602-806-9335 (AZ) or 571-207-7973 (VA) for a free quote or to learn more about our services. 
Back-Up Your Computers and Other Devices
Your business operations rely on the information you have, so it makes sense to back up computers and other devices before packing them. It might be a nightmare to try and recover files from a PC that got damaged during transit.
Create multiple backups of the essential information, and then pack all of the equipment properly.
Use Saran Wrap to Pack all Leak-able Items
If you are packing stuff such as bottles of liquids that could potentially leak (e.g., office cleaning supplies, printer ink, etc.), using saran wrap will help avoid unwanted spills. All you need to do is uncap the bottle, place a layer of saran wrap over the opening, and screw the cap back on.
Do this to all the bottles and jars you think can leak during transit. Also, such items should be packed in a different box to avoid spills and stains.
Tape the Boxes Well
Securing the boxes with tape is a crucial part of the packing process and is often overlooked. While taping may seem like an easy task, it needs to be done carefully.
Invest in good-quality cargo tape that can hold the box's flaps together. Also, apply the tape thoroughly on the top and bottom of the box to prevent it from rupturing during the move.
Expert packers at Dose Moving & Storage suggest that you tape the box's edges for extra reinforcement when planning a move.
Label All Boxes Properly With Contents and Destination Room
In order for your commercial movers to know what type of items are packed in a box and where to unload them, they must be labeled with the contents and destination room. Labeling the boxes saves a lot of time when it comes to unloading and unpacking. Also, when a box is labeled as "Fragile", the movers will handle it with extra care.
Label the boxes as you pack them to avoid any confusion. You can also use different kinds of labels to define the moving priority and which room to keep the box in after unloading it from the moving truck.
Disassemble the Office Furniture
Moving big and awkwardly shaped furniture items is difficult. Try to disassemble the furniture or hire a commercial mover who will do it for you. Packing and loading smaller pieces are much easier for your business movers.
Another tip is to take pictures while disassembling the furniture so you can put the parts back together correctly once you've got them in the new space.
Pack the Kitchen Last
Does your office space have a kitchen? Well, packing a kitchen is often the toughest task of all because it has the most fragile and messy items. Here's how you should pack the kitchen when planning for a successful commercial move.
Pack Stemware and Glasses into Boxes with Dividers
This is the safest way to transport these fragile items. Get a few packing boxes with dividers that hold the individual pieces of glassware. Wrap each glass and stemware item in packing paper, and put them carefully into the boxes.
Plates are big and can occupy a lot of space; packing them vertically solves the problem. Place a layer of foam or newspaper at the bottom of the box, and a layer on the top of the plates for added protection.
Use a medium or large box to stack pans and pots. Put good-quality packing paper between the packed items to prevent them from moving around in transit.
Clean All Appliances Before Packing Them
Thoroughly clean all appliances, including microwaves, toasters, coffee machines, and so on, before packing them. In addition, remove the movable parts, such as the racks from a toaster oven, to minimize the chances of damage.
---
Do you not have the time, patience, or personnel to pack your business for an office move? Well, you are in luck! Many commercial movers offer packing services and will take care of everything for you.
As one of the best office moving companies, Dose Moving & Storage has a team of trained packers so you don't have to go through all the stress of packing your office belongings. By letting us do the packing, you can save time and will have minimal disruption to your business operations. Our full-service commercial moving even includes disassembling and reassembling office furniture. From documents to computer equipment, our experts will pack all types of items with high-quality packing materials and careful attention. We also provide free moving blankets to protect valuables during shipping.
? Request a Free Moving Estimate
Our qualified moving consultants will give you an estimate based on your specific move requirements. Just tell us about your move and we'll help you plan out every step of the process.
---
Top Mistakes to Avoid When Packing for a Commercial Move
So, you have decided to pack the business on your own? Whether you are packing it for the first time or you know how to move a business, there are some common mistakes people tend to make. These mistakes not only cost you money but can also hinder the entire moving process.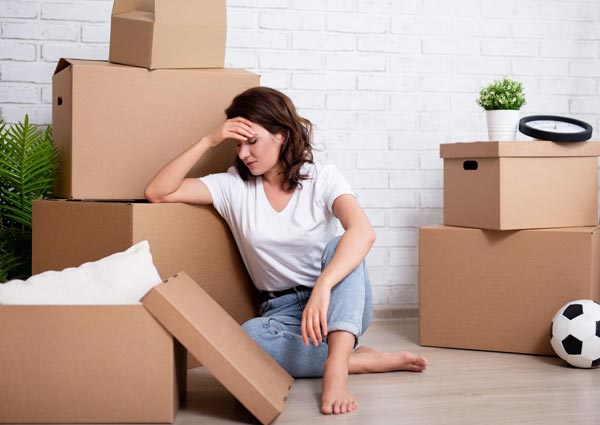 Not Understanding How Packing Works
Packing in itself is a complicated process, especially when you are planning to move your entire business. First off, you should understand how packing works and what challenges it can bring.
The best way to understand the challenges is by talking to someone who has recently moved their business. You can also do thorough research on the internet to understand the basics of packing for a commercial move.
Not Speaking to the Business Moving Services Company
The commercial moving services company you've hired will have planned its schedule according to the details provided by you. For example, if you have scheduled the move on a particular date, the moving company will be prepared to move everything on that date.
If there's a delay due to not being finished packing, you should inform the commercial movers. Always stay in touch with the moving company, and update them if there are any delays or if you need to add their packing services.
Not Working According to the Plan
There's a reason why you drafted a thorough plan before you started packing. However, it can be a tedious task, and things can quickly go haywire. Try to stick to the plan and follow the steps you laid out in order to have a successful move.
Not Enquiring About the Moving Vehicles
Every commercial moving company has a different fleet of vehicles. Some use big trucks with enclosed cargo areas, while some commercial moving companies have pickup trucks with open beds. Contact the moving company to enquire about the vehicles they'll be using for moving your business.
If they have pickup trucks, you need to weatherproof boxes and moving equipment.
Reasons to Hire Professional Packers
After going through the above tips and mistakes to avoid during packing for a commercial move, you're probably wondering if hiring professional packers and office movers are really worth it. After all, packing is one of those tasks that you shouldn't leave to chance. Your responsibility is to make sure your business belongings are packed efficiently so that nothing gets damaged. Professional movers will be able to handle the packing for you and get your items to the new building without damage.
Here are some advantages you get when you bring in professional packers.
No Hassles of Planning
When you hire packers from an office moving company, you don't need to spend time planning the packing or moving! The moving company will take care of everything as part of their specialized services, so you can focus on setting up your business at the new location.
They Arrange the Packing Supplies
Professional packers come with their own packing supplies. No need to keep track of how many boxes you rented or how many straps you borrowed, as everything is supplied by the commercial movers.
You Can Enjoy the Benefits of Moving Insurance
Professional packers and movers like Dose Moving & Storage have moving insurance to cover any types of damages incurred during the office move due to unexpected events like vehicle collisions. The packers will pack everything properly to mitigate the risks of damage, however, accidents can happen and you want to be prepared.
? More: What Does Moving Insurance Cover?
They Unpack the Stuff for You
Unpacking is as equally taxing as packing. When professionals unpack things for you, they will put them in the area listed on the box label and arrange them according to the checklist. In short, professional packers save you from having to spend time unpacking and organizing your items.
You Get Commercial Storage Options
Another great advantage of connecting with a commercial moving company is having storage options available. Many office moving companies have suitable storage facilities as well.
These storage options can also act as a backup solution if you encounter issues during the transition or if you need more time to set things up. So, why wait? Contact Dose Moving & Storage and book your office move now!
Let Dose Moving & Storage Help You Get Settled Safely!
Packing is not only stressful, but also tedious. It requires labor, patience, and above all, proper planning to ensure no harm comes to your belongings while you relocate. For this reason, you should always opt for a commercial mover with quality packing services that can handle every aspect of a business move with ease.
To ensure your possessions arrive safely without any breakage or loss, consider contacting Dose Movers & Storage. We are a trusted name in the commercial moving industry, and we specialize in providing high-quality packing and moving services, plus climate-controlled and secure storage solutions for commercial clients.
Easiest Relocation for All Types of Businesses
Whether you need to move office space, restaurants, warehouses, hospitals, industrial buildings, or even corporate headquarters, we've got you covered. Our experienced commercial movers know how to securely package, load, transport, and unload each item to ensure they arrive at their exact destination in the same condition.
We understand what commercial moves require and we have specialized expertise in helping businesses with the most complex moves. Whether you want to relocate your entire operation or need extra support to prepare for the move, we'll be there for you every step of the way. We will deliver a stress-free moving experience that allows you to stay focused on the success of your business.
Contact Us Today for a Free Move Estimate
If you are planning a local business move, then don't wait until the last minute. Make an appointment right away for a consultation with Dose Moving & Storage. With many years of industry experience in moving businesses in Arizona, Virginia, Maryland, and Washington, D.C., we know exactly how to handle the entire commercial move process.
Call us at 602-806-9335 (AZ) or 571-207-7973 (VA) today to get a free quote. You'll appreciate the professional services and transparent pricing from the best packers and movers in the area!